Sprechen Sie deutsch? Dann bestellen Sie bitte auf der deutschen Bestellseite!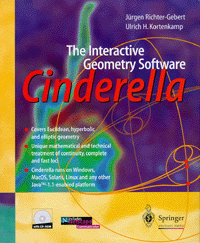 Please place your order at one of the following places:
The price for Cinderella is approx. $54.95 + tax in the US and £35 in Great Britain. Please check with your local bookseller.
A 30 computer license which costs $260 or 450 DM + VAT is available directly from Springer New York in the U.S., Mexico and Canada, or from Springer Heidelberg elsewhere.
Cinderella includes a 143 pp. Manual in english language and a CD-ROM. It runs on every JavaTM-1.1 compatible platform. Java Runtime Environments for WindowsTM 95/98/NT, Sun SolarisTM (SPARC), MacOS 8.x and Linux as well as Netscape Navigator/Communicator 4.5(1) are included on the CD-ROM.
Recommended system requirements: 800x600 truecolor display, 32 MB RAM, 133 MHz or faster CPU, CD-ROM.
---
For Italy: Per ordini o informazioni contattare:
Media Direct srl, Tel. 0424-50-46, FAX 0424-50-46-51 or

Springer-Verlag Italia
Marketing e Vendite
Via Podgora 4 - 20122 Milano
tel. 02/55011986
fax. 02/55193360
springer-vendite@springer.it